No other country can compare with ours when it comes to sheer variety of wedding rituals. Religious, social and cultural, here's a slice of Indian wedding pomp and splendour. Photographs by Sephi Bergerson. Text by Priyamvada Kowshik for Marie Clair (India, October 2009)
The sights and smells, noise and fervour, pomp and grandeur, rites and rituals… Can any other occasion on earth ever match the great Indian wedding saga? Yet, ask any married couple about the big day and they'll tell you it was a blur, when they did as commanded – to keep the head low or dive for someone's feet; to stand up or sit down; to hold hands or let go. Our weddings are a heady cocktail of religious and social commitments laid out like a cultural extravaganza. Rites and rituals form its backbone and every region, religion, community and sect has its own take. They celebrate the beginning of a shared life, assign roles, break the ice, and seek promises of loving and living together. Photographer Sephi Bergerson began documenting weddings two years ago.
His camera became an excuse to study this interesting social and cultural phenomenon. The original idea for Sephi's book was to shoot five ceremonies. "But the subject kept growing," says the Israeli photographer, who is stumped by how each wedding is different from the other. "I set out assuming a lot will be similar but there are so many different customs, they adapt and absorb." And then there is Bollywood with its mehendi and baraat. Yet, when he asks people what is special about their wedding ceremonies, he is met with a dismissive shrug, "Oh, it's nothing special, just a regular Indian wedding!" So it is.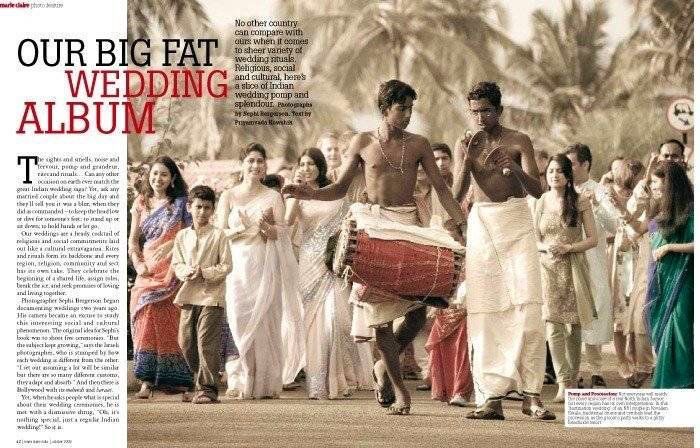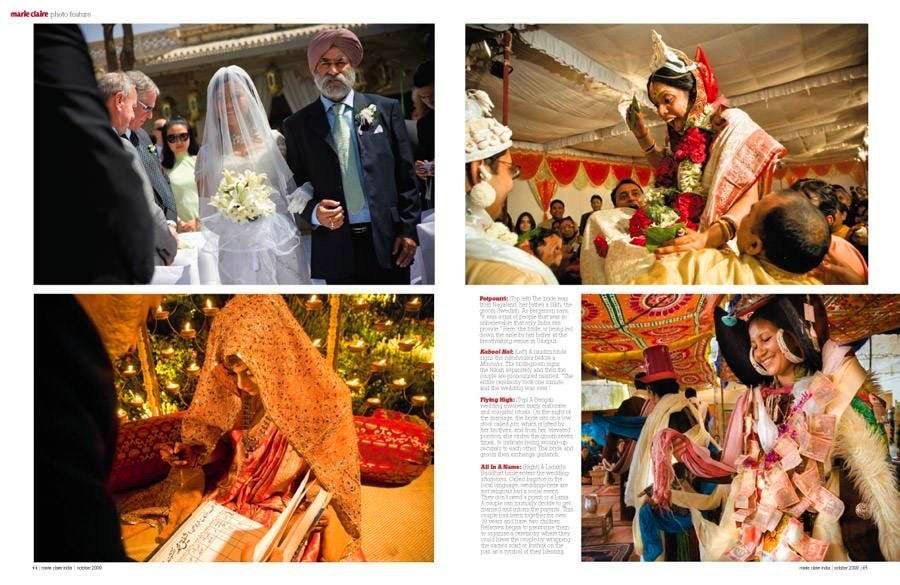 Potpourri: (Top left) The bride was from Nagaland, her father a Sikh, the groom Swedish. As Bergerson says, "It was a mix of people that was so unbelievable that only India can provide." Here, the bride, is being led down the aisle by her father at the breathtaking venue in Udaipur. Flying High: (Top) A Bengali wedding involves many elaborate and colourful rituals. On the night of the marriage, the bride sits on a low stool called piri, which is lifted by her brothers, and from her 'elevated' position, she circles the groom seven times, to indicate being wound-up securely to each other. The bride and groom then exchange garlands. Kabool Hai: (Left) A muslim bride signs the nikahnama before a Maulana. The bridegroom signs the Nikah separately and then the couple are pronounced married. "The entire ceremony took one minute and the wedding was over." All In A Name: (Right) A Ladakhi Buddhist bride enters the wedding shamiana. Called bagston in the local language, weddings here are not religious but a social event. They don't need a priest or a Lama. A couple can mutually decide to get married and inform the parents. This couple had been together for over 10 years and have two children. Relatives began to pressurise them to organise a ceremony where they could bless the couple by wrapping the sacred scarf or kathak on the pair as a symbol of their blessing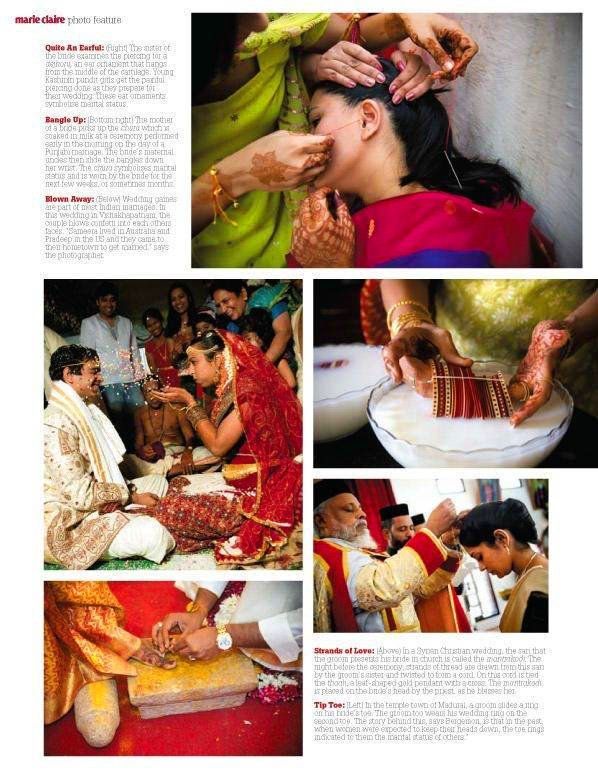 Quite An Earful: (Right) The sister of the bride examines the piercing for a dejhoru, an ear ornament that hangs from the middle of the cartilage. Young Kashmiri pundit girls get the painful piercing done as they prepare for their wedding. These ear ornaments symbolise marital status. Blown Away: (Below) Wedding games are part of most Indian marriages. In this wedding in Vishakhapatnam, the couple blows confetti into each others faces. "Sameera lived in Australia and Pradeep in the US and they came to their hometown to get married," says the photographer. Strands of Love: (Above) In a Syrian Christian wedding, the sari that the groom presents his bride in church is called the mantrakodi. The night before the ceremony, strands of thread are drawn from this sari by the groom's sister and twisted to form a cord. On this cord is tied the thaali, a leaf-shaped gold pendant with a cross. The mantrakodi is placed on the bride's head by the priest, as he blesses her. Bangle Up: (Bottom right) The mother of a bride picks up the chura which is soaked in milk at a ceremony performed early in the morning on the day of a Punjabi marriage. The bride's maternal uncles then slide the bangles down her wrist. The chura symbolises marital status and is worn by the bride for the next few weeks, or sometimes months. Tip Toe: (Left) In the temple town of Madurai, a groom slides a ring on his bride's toe. The groom too wears his wedding ring on the second toe. The story behind this, says Bergerson, is that in the past, when women were expected to keep their heads down, the toe rings indicated to them the marital status of others."