My latest book project, that has been almost eight years in the making, is finally published! Behind the Indian Veil – A Journey Through Weddings in India is nothing less than a true work of love.  Some of you might have been following the progress of this project from the early stages. Others might have only learnt about it in September 2014 when we launched the crowd-funding campaign, and some are only learning about this book now as the media covers the launch. The launch, more like a crazy party that lasted until past midnight, took place at Olive Qutub, the stylish restaurant in south Delhi this past Saturday night, August 29th, and was a wonderful event, attended by many friends, invitees from the Indian wedding industry, the fashion world, the literary fraternity, colleague photographers and many more. Dr. Shashi Tharoor, the bestselling author of 15 books and former under-secretary general of the United Nations, was kind enough to take time from his busy schedule and launch the book.
Behind The Indian Veil is a journey that I took through some extraordinary moments and uncharted wedding traditions in India, trying to reveal the differences and similarities in Indian wedding traditions, while seeking the common essence of this grand, colourful, fantastic celebration.
After living in India for more than 14 years, with more than seven of which spent working on this project, I was fortunate to witness and document a huge variety of Indian wedding traditions. As I traveled the length and breadth of India, I was invited into sacred places and intimate moments normally inaccessible to outsiders, witnessing traditions buried so deep in the subconscious of the subcontinent that even people from India do not necessarily know about them. This incredible array of stories reveals cultures, traditions, and legacies as complex and diverse as India herself.
Behind The Indian Veil features images and written stories from a vast assortment of Indian communities: Tamil Brahmin, Bengali, Sikh, Hindu Punjabi, Hyderabadi Muslim, Rajput, Kashmiri Pandit, Ladakhi Buddhist, Goan Catholic, Syrian Christian, Zoroastrian Parsi, Dawoodi Bhora, and Kodava Coorg.
The book is already available for pre-order in India (to ship out on September 15) on my website, and will be in bookstores across the country, as well on the amazon.in, amazon.com and amazon.co.uk websites very soon.
Sula Vineyards were great to sponsor the fantastic wine for the book launch. Mukta Kapoor and her team from Yuna Weddings did a great job with the decor. My friends, Abhimanyu and Prasheila, from Going Bananas Photography covered the photography and video. Here are a few pictures.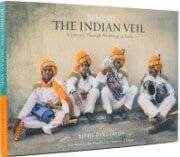 Behind The Indian Veil is the result of Sephi Bergerson's seven year photographic journey through wedding in India. This lavishly produced hard-cover coffee table book brings the beauty of India's wedding traditions, its people and its amazing stories into stunning focus.
Sephi Bergerson is an international wedding photographer represented worldwide by SILK PHOTOS. He is based in India with extensive experience of covering weddings all over the subcontinent. He is available for wedding photography in Goa, Indian Wedding photography in Delhi, Rajasthan and worldwide.