Having a destination wedding is now a popular trend in India as more and more couples opt for a travel plan instead of a wedding hall experience. Femina magazine publishes a feature on the new trend in the November 2014 issue now on stands. It is always nice to see my work in print.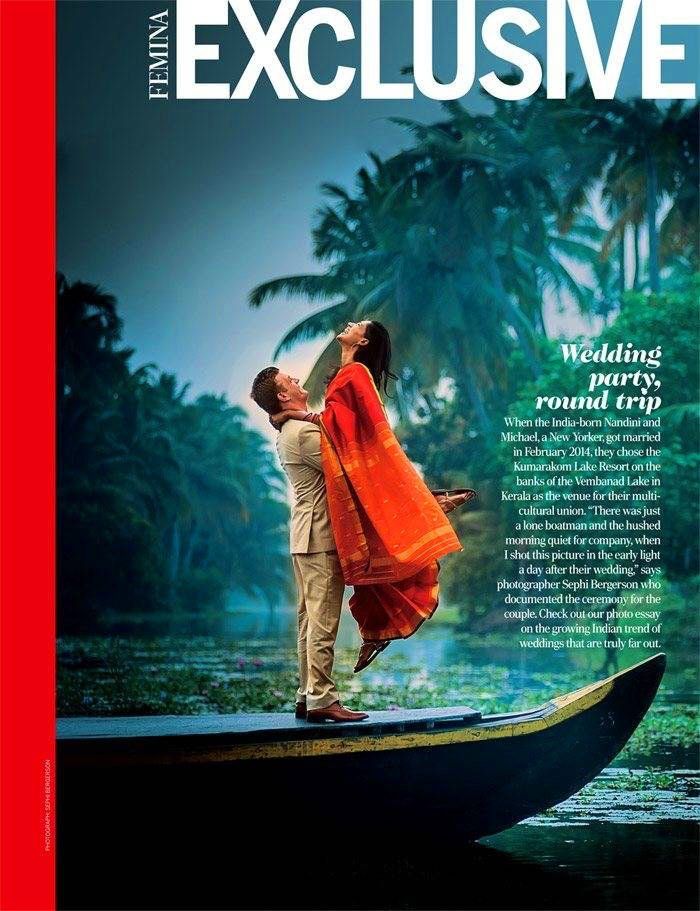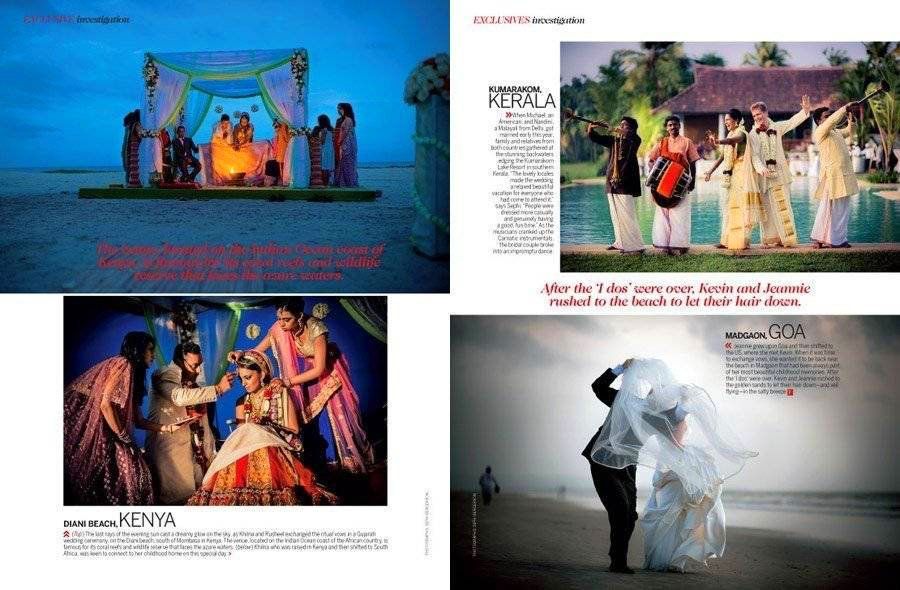 Destination Weddings in India and Worldwide
If you want to see more of the weddings featured in this exclusive publication, check out Nandini and Michael's Destination wedding at Kumarakom lake resort
I have already covered a Kerala backwater wedding before. It is definitely one of my favourite locations for a destination wedding so I was not so sad (!) when Nandini and Michael got in touch with me earlier last year to cover their upcoming wedding at Kumarakom Lake Resort.  I love the food in Kerala, the palm trees and the backwater are simply the best backdrop a photographer could ask for, but more than this I loved this Kerala Malyali wedding. Loved it!
Khilna and Rush's destination wedding on Diani beach.
Khilna and Rush actually traveled from South Africa to have their three-day Indian wedding in Kenya on Diani beach, south of Mombasa. It was the beginning of the rainy season and the view towards the beach from Mzima house, where the wedding was to take place, were simply stunning. White sand and blue turquoise water works very well with heavy clouds above. The coral reef, I learned from my quick encounter with the boat guys on my first walk along the beach, was not too far away. It didn't take much convincing to get the newly weds on a little wooden boat wearing their lengha and sherwani for an amazing photo shoot. Brave guys. I am not sure an Indian wedding attire is the best costume to soak in water but we sure did come out with some super fun shots. Surely an experience to remember.
Jeanine and Kevin's destination wedding in Goa
It was not what you would call, but we did make it to the beach of course! Right after the church wedding – which was my first Roman Catholic wedding, believe it or not – and before the reception at the Taj Exotica. Jeannine wanted pictures on the beach at sunset and as much as I am not the beach-and-sunset-type wedding photographer, I would have done it and tried my best to avoid the kitsch, but I didn't have to! Lucky for me, and for Kevin and Jeannine I hope, you can't really see the sunset in Goa at this time of the year and the beach was gray and windy. Kevin had to struggle with Jeannine's veil flowing in the wind and I simply love the results of that photo shoot!
Sephi Bergerson is a destination wedding photographer based in India since 2002. He is available for destination weddings in India, Thailand, Kenya and worldwide.