An interview with Sephi Bergerson about wedding photojournalism in India. Better Photography Magazine, January 2011
Sephi Bergerson's photographs make one experience a rush of emotions that help you relive weddings.
Though he has 20 years of photographic experience, Sephi's interest in wedding photography began only three years ago, when he started working on his book Traditional Weddings in Modern India. Interestingly, Sephi says that the thought of being a wedding photographer never occurred to him. "In fact," he says, "I was raised to mock the genre. The idea of being a wedding photographer always seemed a little uncool. The kind of respect it received was not as good as being a photojournalist or a portraitist." However, he thinks that with a new generation of photographers and new perspectives, the genre is gaining a serious makeover that has been long overdue. Various photographers are trying to apply styles that are usually associated with other genres, while shooting weddings. Ask him to comment on his own style and Sephi is rather modest. "All I do is capture what unfolds in front of me," he says. He believes that anticipating a moment is quite important, but at times, it is just not possible to do this.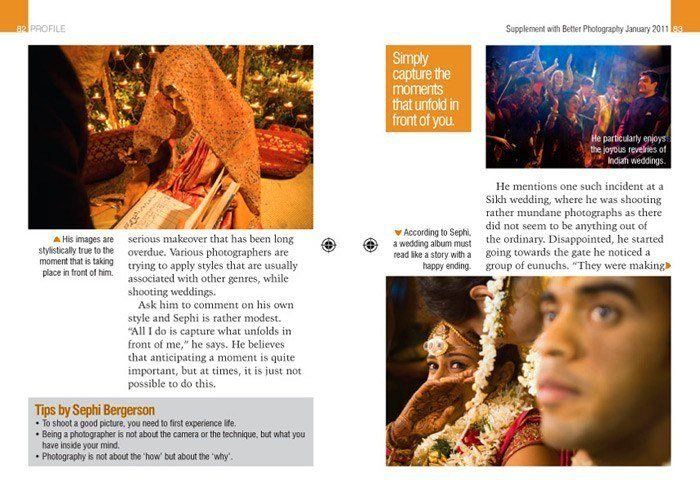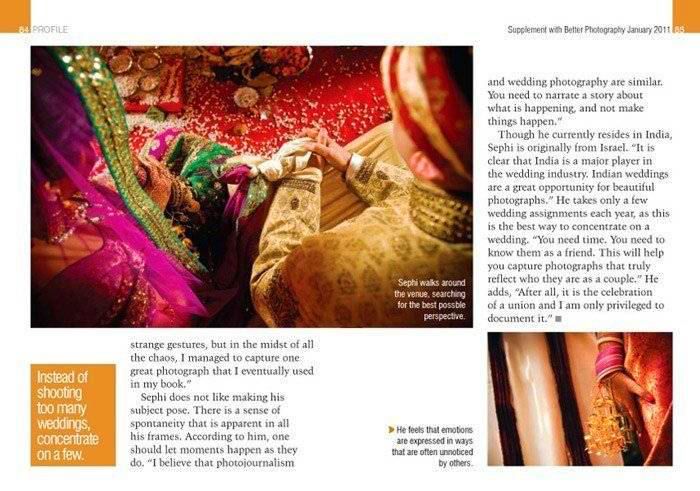 He mentions one such incident at a Sikh wedding, where he was shooting rather mundane photographs as there did not seem to be anything out of the ordinary. Disappointed, he started going towards the gate he noticed a group of eunuchs. "They were making strange gestures, but in the midst of all the chaos, I managed to capture one great photograph that I eventually used in my book."
Sephi does not like making his subject pose. There is a sense of spontaneity that is apparent in all his frames. According to him, one should let moments happen as they do. "I believe that photojournalism and wedding photography are similar. You need to narrate a story about what is happening, and not make things happen."
Though he currently resides in India, Sephi is originally from Israel. "It is clear that India is a major player in the wedding industry. Indian weddings are a great opportunity for beautiful photographs." He takes only a few wedding assignments each year, as this is the best way to concentrate on a wedding. "You need time. You need to know them as a friend. This will help you capture photographs that truly reflect who they are as a couple." He adds, "After all, it is the celebration of a union and I am only privileged to document it."