When I began my journey with wedding photography in India it was to become a book exploring the various traditions of Indian weddings. Traveling the length and breadth of India for the book, I was searching out differences and similarities in Indian wedding traditions, while trying to find a single theme that could explain the essence of this grand, colorful and fantastic celebration. It's been a while and I am just about to complete shooting. The book is to be published with HarperCollins and It is now time of editing and selection. I must have close to 40,000 images to select from but some images are more likely than others to make it to the final selection. There are of course many others but here is a short selection of images that I like so far.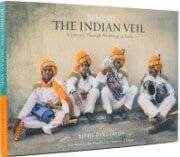 Behind The Indian Veil is the result of Sephi Bergerson's seven year photographic journey through wedding in India. This lavishly produced hard-cover coffee table book brings the beauty of India's wedding traditions, its people and its amazing stories into stunning focus.
Sephi Bergerson is a wedding photographer based in India since 2002 and is available for Indian wedding photography, destination wedding photography in Udaipur, Jaipur, palace weddings in Rajasthan or a beach wedding in Goa or Kerala. Sephi is also happy to travel for wedding photography in Kenya, Tanzania, Mauritius, Maldives, Thailand and Sri Lanka.